Virginia Campbell, a 99-year-old woman from Lake Oswego, Oregon just got her first computer…an Apple iPad.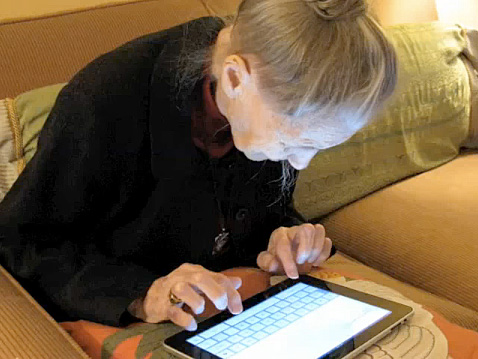 Virginia Campbell loves to read and write. She graduated from Reed College in the early 1930s with a bachelor's in English literature. However, she suffers from glaucoma, making reading and writing difficult. When Virginia first heard about the iPad, she thought that it might help her visual problem. Having never before owned a computer, Campbell was eager to get her hands on one of the first iPads.
Her daughter Corinna Campbell-Sack and son-in-law, Bob Sack, stood in line to buy an iPad the very first day they came out. Virginia has been reading and writing on it ever since. "She's writing all of her poetry on her iPad now", her daughter Ginny Adelsheim added. "There's nothing between you and the screen. You can enlarge the print, and it has a much brighter screen so you can read on it more easily than with a regular computer screen. It's changed her life. She's so into it. She shows it to everybody. People come to her apartment and she entertains them by showing them how to use the iPad."


Virginia Campbell and her family
Virginia Campbell's interview with the Oregonian



The iPad enables Virginia to effortlessly adjust text size for reading just by tapping. In addition she can choose different fonts, making it easier and more pleasant to read. The large virtual keyboard makes writing possible. The iPad's also adjusts the brightness of the page making text stand out better. Virginia has been able to once again enjoy reading and writing. So far she's read two books and composed twelve limericks on her iPad.
Campbell wrote this tribute to the iPad.
"To this technology-ninny it's clear,
In my compromised 100th year,
That to read and to write
Are again within sight
Of this Apple iPad pioneer."
Apple's continues to provide intuitive ways of using the latest technological achievements, and excels at putting this technology into the hands of everyone, young and old. As new uses for the iPad emerge, it's clear that in addition to it's many expected uses, the iPad is fast becoming a great tool for those not tech savy, seniors, and those with physical challenges. Simplicity and superb design make this possible. If a product can be used to enrich people's lives and enable them to engage in creative endeavors, than it is truly a great contribution to society.


[ad name="Post Bottom"]