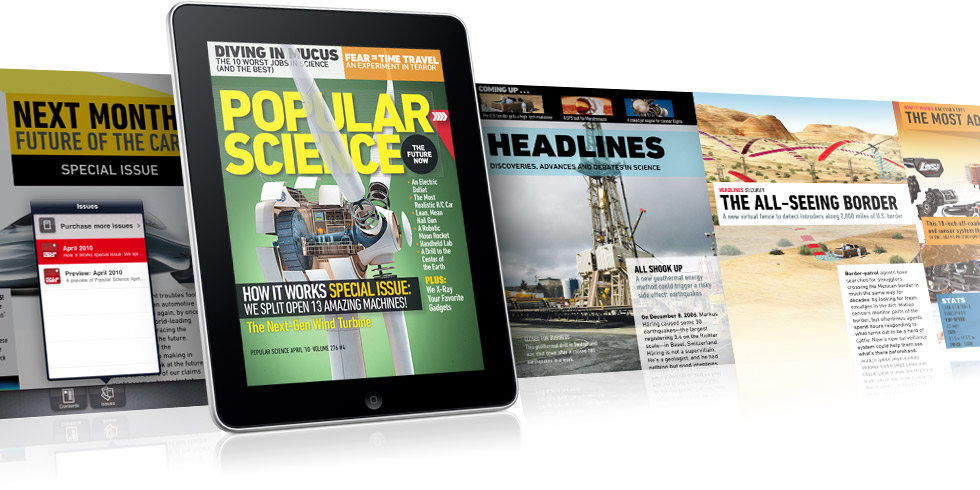 "The iPad Will Change the Way You Experience Magazines."
Apple iPad and Popular Science
The team that has created the new Popular Science+ App for the iPad, discusses the revolution to magazine publishing that is occurring with the release of the Apple iPad. They discuss the convergence of the new technology of the iPad and the re-invention of the way content is delivered.
The Popular Science+ App, is a great example of terrific content taking full advantage of the Multi-Touch features of iPad. It delivers everything readers love about the print magazine, great storytelling, pacing, and images — all in an immersive experience.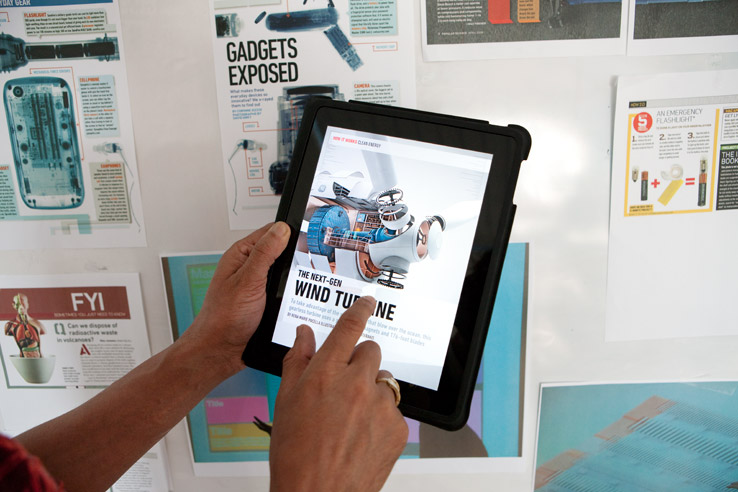 "Since the birth of the web 15 years ago, we thought it was all about creating a digital interactive experience," says Popular Science CEO Jonas Bonnier, about the new Popular Science+ iPad App. "But we don't love magazines because they're interactive. We love them because they're inspiring, surprising, and provocative. They help us in our everyday life. We can read them from the first page to the last and then save them. The problem was we couldn't deliver that kind of experience to our readers through the web on a computer screen. But on a handheld Multi-Touch screen like iPad, it's all suddenly possible.
To figure out how best to bring a printed magazine to life digitally, Bonnier initiated a companywide effort. The goal was to capture the spirit of a magazine coupled to a brand new technology. In December 2009, the team began test-prototyping several different magazines. When iPad was announced in January 2010, they decided to make Popular Science+ their first iPad App. Because of their comprehensive preparation, the team was able to take it from prototype to finished App in just 60 days.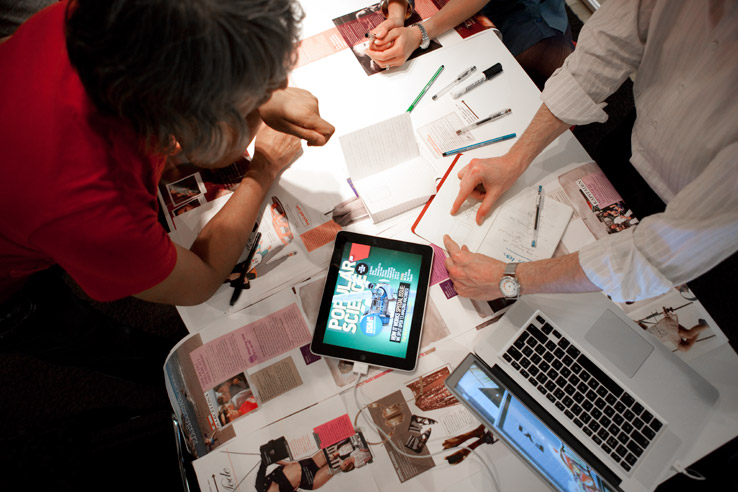 Sara Öhrvall, Director of Research and Development discusses design principles. "It was about reinventing the user experience. Our whole philosophy has been to not add that much content, but rather to enhance it, make it more functional, more beautiful, more alive."
Öhrvall stated that the team believes their design principles were perfectly expressed in the iPad. "The beauty of the iPad for a publisher is that, for the first time, readers and users can use our products and actually feel like they're touching them. That's critical for a magazine experience. It's also of course about the fluidity and those beautiful images, which just aren't available anywhere else."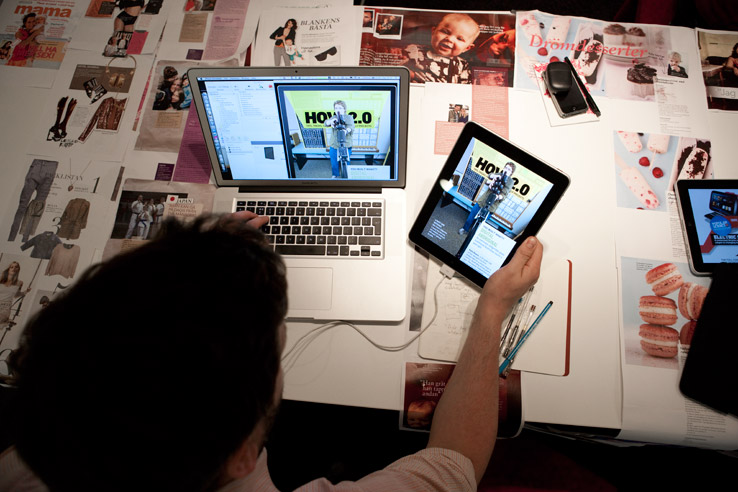 Mark Jannot, editor-in-chief of Popular Science believes Popular Science+ on the iPad delivers the spirit of the print magazine with all the advantages of the iPad. "The thing about iPad is that it's a handheld device you can feel very independent with," he says. "That makes it possible to deliver a digital magazine with the feel of a print magazine. We felt it was crucial to focus on what we were already delivering in print, which is a great, leisurely, lean-back experience — very visual, highly designed, but in a way that feels beautiful, fluid, and right for iPad."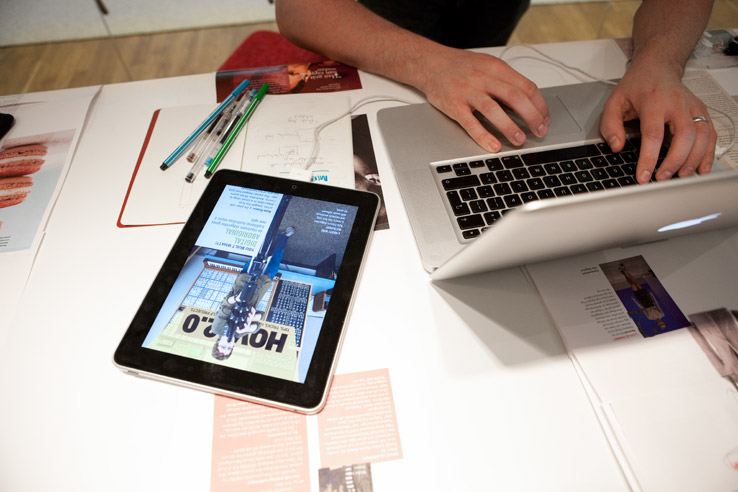 Matt Webb, one of the chief designers of the Popular Science+ App, gives credit to the iPhone development environment for enabling an intuitive interface: "I don't feel like I'm viewing content on an iPad. I feel like I'm reading a magazine. And it's a testament to the iPhone OS, great multi-touch gesture support, typography support, and animation. We were able to get on with our real work, improving the user experience."
Bonnier sees better opportunities for publishing robust magazines, no matter the medium. "The reactions we've got so far on Popular Science+ for the iPad have been extraordinary."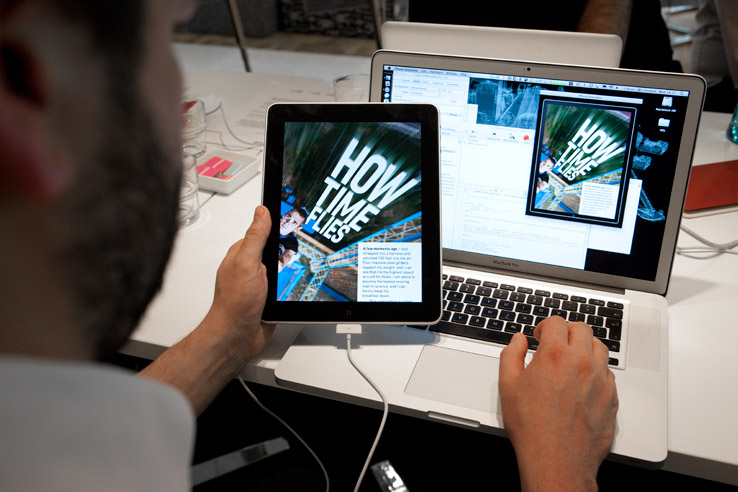 [ad name="Post Bottom"]