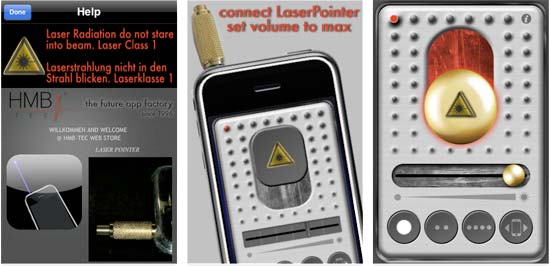 In our exposé of Amazing iPhone Gadgets™, we brought you the HMB-TEC Universal IR Remote Control Power Plug, and HMB-TEC EGC Heart Rate Monitor.
For our third device, we present the HMB-TEC EGC Laser Pointer for iPhone.
from HMB-TEC: iLaserPointer is the first fully functional LED Laser Pointer for professional presentations on the iPhone. You simply plug it into the headphone jack. Because of it's special features, at your next presentation, your audience will be amazed. Operate the iLaserPointer with the jumbo button with lock function, or even easier – thanks to the acceleration sensor – by simply rotating the iPhone.
The iLaserPointer can do a lot more than a normal laser pointer. There are four modes available: The generously sized button is used to activate the laser pointer. As long as the button is pressed and held, the laser lights in the set brightness. To adjust the brightness to the desired intensity you have a slider available. The laser button also has a locking mechanism to keep the laser pointer permanently switched on. Loosen the lock by a key press. When activated, you can switch on these operation modes:
1. The laser lights in continuous wave mode (continuous)
2. The laser beam is modulated with a flashing frequency of 1 hertz (increase to slow flashing to attract attention)
3. The laser beam is modulated with a flashing frequency of 3 hertz (fast flashing to attract attention)
4. The laser beam is controlled via the built-in iPhone acceleration sensor (depending on the angle of rotation, constant light, slow or fast flashing, or off if not rotated)
Technical data of the laser pointer-Gold-plug:
– Optical beam power 0.15 to max. 3.2 mW
– 10mA average current consumption in continuous operation
– Power supply of audio signal, no additional battery required
– Wavelength 650nm (signal red)
– Red Dot 5 meters in diameter about 8mm
– Laser Class 1 according to EN 60825-1-94

HMB-TEC of Germany has created an eclectic and eccentric collection of hardware gadgets that plug into the 3.5mm headphone jack of an iPhone, and couple with their apps.
Among the devices they make are a heart monitor, microphone, thermometer, stethoscope, pocket fan, oscilloscope, laser pointer, flashlight, breath controller, all sorts of remote control devices, and much more. German ingenuity and engineering leads the way again. The accessories cost from between $20 to $90 US, excluding shipping. The accompanying apps cost between $1 to $5.
[ad name="Post Bottom"]