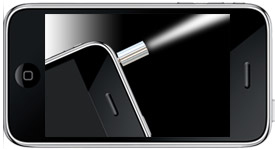 In our exposé of Amazing iPhone Gadgets™, we've brought you the
For our fourth device, we present the:
HMB-TEC Real LED Flashlight & Emergency Flasher for iPhone
from HMB-TEC: iPocket LED Flashlight with SOS code. There are plenty of flashlight apps for the iPhone but not like this! With the LED plug you turn your iPhone into a real LED flashlight that emits a strong beam of light. Useful not only for everyday use, but also in an emergency. Press a button and you can send a Worldwide Standard Morse Code SOS Distress Signal.
The first truly functional LED flashlight for the iPhone. There are two parts; The LED plug, which inserts into the headphone jack and the iPhone app. Why carry around an extra flashlight, when your iPhone can function as a real one. Very cool!
The operation of the LED Flashlight is simple:
• Connect the LED plug (plug-LED) to the headphone jack.
• Start the app and the audio volume level to maximum.
• When you press the button of the flashlight, the LED will light
• and turns off when you release the button again
• For constant light, press the button and drag down until it clicks
• To turn off simply press the button
• The beam intensity and brightness of the LED flashlight, can be changed with the slider
Other Highlights:
1. The LED Pocket Flashlight needs no additional battery.
2. Choice of four colors for the LED plug-in.
• Sun Yellow
• Signal red
• Signal green
• White
Specifications of the LED Flashlight LED silver-plug:
• Operating through an audio signal max. 2.7 V
• Power consumption max. 8mA
• No additional battery needed
• Robust metal design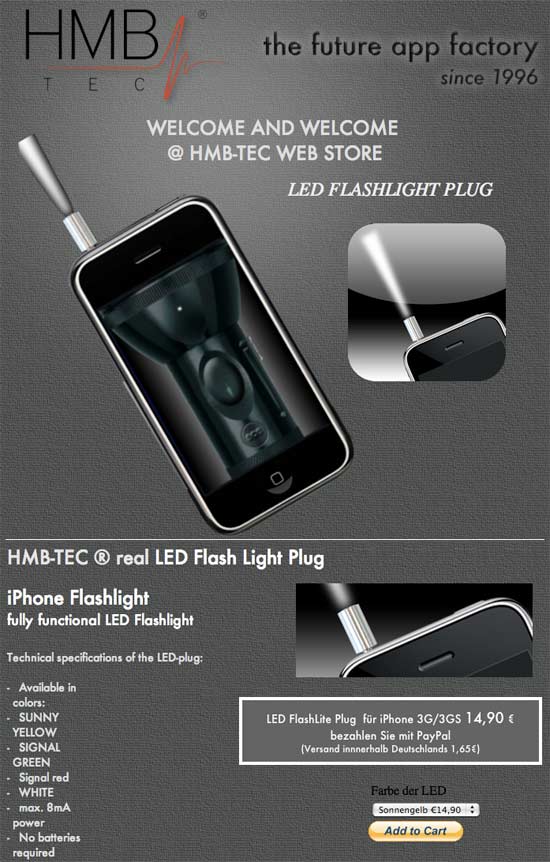 HMB-TEC of Germany has created an eclectic and eccentric collection of hardware gadgets that plug into the 3.5mm headphone jack of an iPhone, and couple with their apps.
Among the devices they make are a heart monitor, microphone, thermometer, stethoscope, pocket fan, oscilloscope, laser pointer, flashlight, breath controller, all sorts of remote control devices, and much more. German ingenuity and engineering leads the way again. The accessories cost from between $20 to $90 US, excluding shipping. The accompanying apps cost between $1 to $5.
[ad name="Post Bottom"]