Turn Your iPad Into A Giant Remote
Comcast has demoed the Xfinity Remote app on the iPad, a prototype of a web-based remote control that will enable an interactive programming guide to many devices such as an iPad. Comcast CEO Brian Roberts presented the Xfinity Remote on an iPad at the 2010 NCTA show, showing how it can access and control the company's on-demand and TV recording services.
Comcast CEO Brian Roberts demos the iPad Xfinity Remote prototype at the Cable Show 2010.
"It will enable you to search for your favorite shows and movies on television and video on demand, change the channel on your cable box right from your iPad, and set your DVR remotely. The application is simple, easy to use and makes it easy to discover content. It looks particularly great on the iPad because it takes advantage of the rich, graphical user interface. We've got developers working now to finish and launch this application. This is part of our strategy to give consumers lots of simple ways to navigate the tens of thousands of choices we now offer on television and online."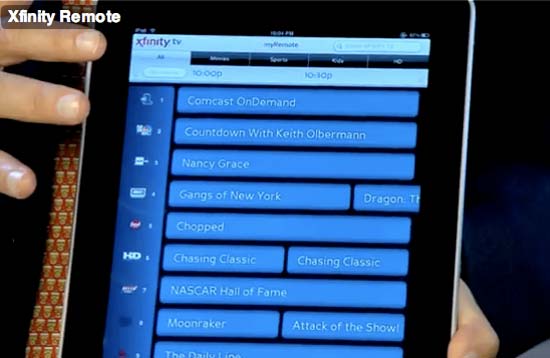 In addition to controlling your TV viewing experience, Roberts also said the app will have other features adding a whole new social dimension to your living room entertainment experience. This includes integration into social networks chatting live while watching a show or sending live invites to friends to watch programming.
At the show, Roberts also announced the rollout of a new library that will bring more than 11,000 movies on-demand to the TV, in addition to the 20,000 TV shows and movies online. "With all that content we want to bring consumers smart, simple tools to navigate their entertainment choices," he said.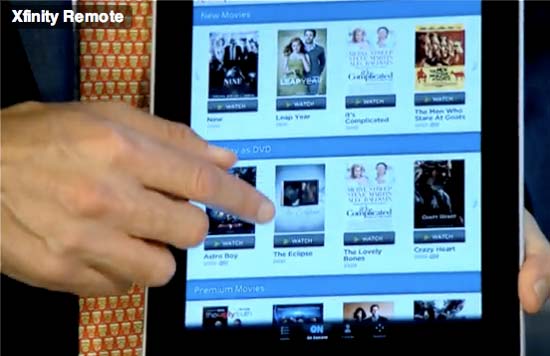 The Xfinity Remote will be free when in arrives at the App Store. No release date has been given, but Comcast promises it before the end of the year.
[via Comcast]
[ad name="Post Bottom"]