David Hockney 72, is one of the most important British artists of the past century. Sometimes considered a playboy of the art world, he has wandered within eclectic and strange art circles. His work however, has been consistent and tirelessly dedicated, and he has enjoyed much success and acclaim.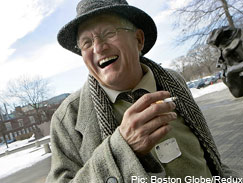 In recent years, Hockney, from Bridlington, England, has experimented with many different medium; streaks, mirrors, oils, watercolour, pencil and more. For the past year he has created much of his wonderful art on an iPhone.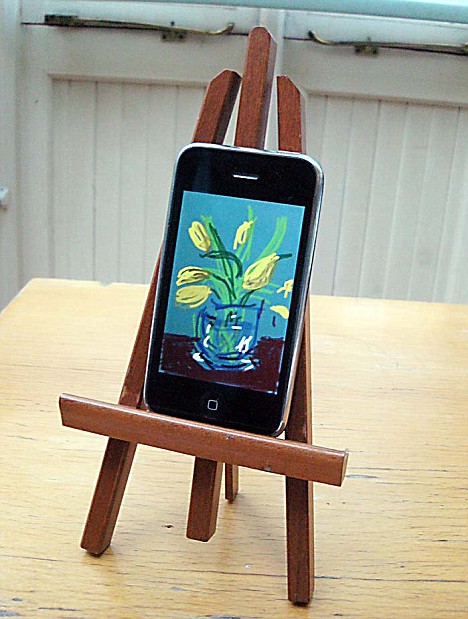 In recent interviews, Hockney describes the new challenges of switching from an iPhone to an iPad to do his art. It's larger and more difficult to carry, but no problem for Hockney. To accommodate sketch pads, he has always had his suits custom made with a large inside jacket pocket. He opens up his jacket and there inside is a pouch, the perfect size for his iPad.
David Hockney loves his iPad and says that Vincent Van Gogh would have loved one as well. As much as he loves his iPhone, his iPad is eight times the size and extends his ability to do digital art to a new level. Hockney said; "The iPad is far more subtle, in fact it really is like a drawing pad. They will sell by the million. It will change the way we look at everything from reading newspapers to the drawing pad. It can be anything you want it to be. This is the nearest we have got to seeing what I would call a universal machine."
Hockney loved to draw flowers, landscapes and sunrises on his iPhone. "I draw flowers every day and send them to my friends so they get fresh blooms every morning," said Hockney. "And my flowers last! "Who would have thought that the telephone would bring back drawing?"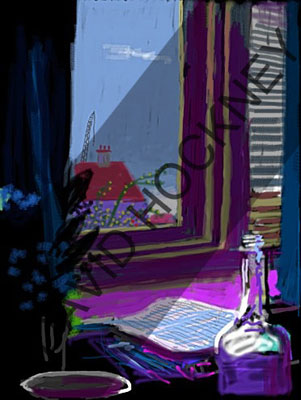 Now, the iPad allows David to draw on a larger and more complex scale. On the iPhone, he would use just his thumb. On the iPad, he now uses all his fingers. "I can change color or the width of the mark very rapidly on this, quicker than with an ordinary computer.
"What is also unique is that with the iPad you can actually watch a playback of your drawing. I have never watched myself actually drawing before." The Brushes app that Hockney uses allows him to replay each finger motion that he has used to create his art. It's a novel way to review how he created his art.
[via London Evening Standard – Bloomberg – DailyMail]
[ad name="Post Bottom"]