Another exciting MIDI Controller for the iPad has arrived. The AC-7 Pro Control Surface, $9.99 by Saitara Software, brings Full Touch Control to your music mixing and recording sessions.

Features:

2 way WiFi communication, 'Flying Faders', and Track Level Meters for monitoring peaks

Dedicated modes for Apple's Logic, MOTU's Digital Performer and ProTools. There's also a general MC mode for use with other software using the MCU protocol. Track names can be updated automatically from your recording software.
Video Review by Nick at Sonic State
Video Review by Jason Burns of Philoking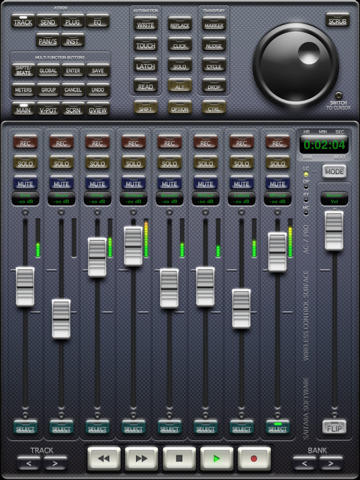 Requirements:
A modern computer running Mac OS X or Windows
Mixing or Recording software which can use the Mackie Control protocol
A WiFi network (for absolute best performance and lowest latency, a private wifi network is recommended but not essential)
[ad name="Post Bottom"]