In our exposé of Amazing iPhone Gadgets™, we've brought you the
For our seventh device, we present the:
HMB-TEC Condenser Microphone for iPhone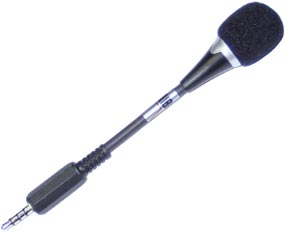 Here is a great condenser microphone for recording. Much better than the built-in or headphone mic on the iPhone. This is a real condenser mic, the type of mic used throughout the recording industry. Great for recording podcasts, interviews, dictation, music, concerts, digital sampling, or any audio use requiring a high quality microphone.
from HMB-TEC: Features and Specifications:
iPhone 3G, 3GS or iPod Touch 2G
Connect to headphone jack
Condenser microphone with integrated FET amplifier
4 pin jack
Windscreen
Use as an external mic for other audio applications such as voice recorder, audio recorder, or stethoscope (in conjunction with Y-Adapter for Headphones)
Can also be used with the Sound Level, Spectrum Analysis, and all Audio Apps from the App Store.
Flexible Swan Neck (length 120mm)
Quick Guide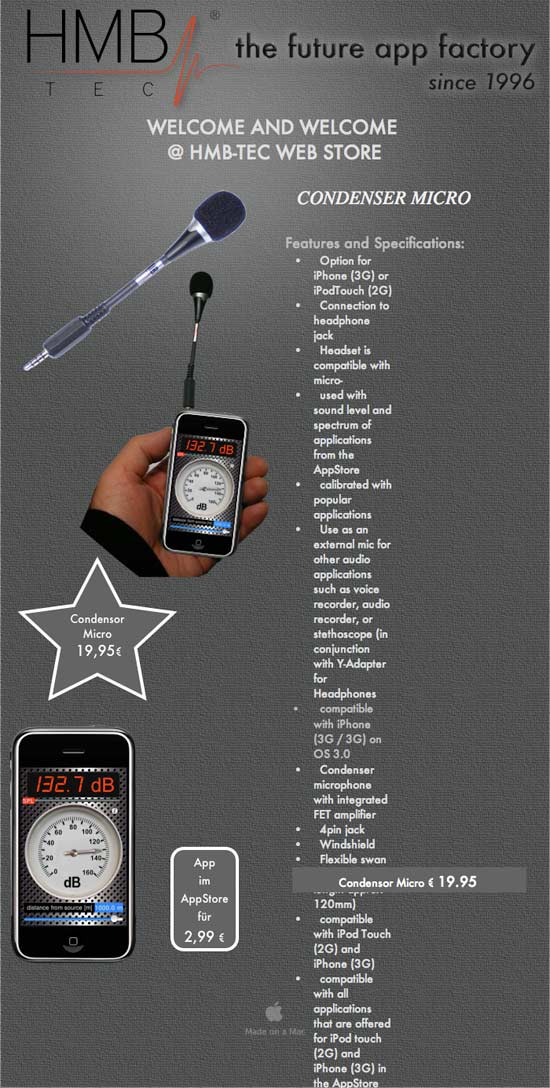 HMB-TEC of Germany has created an eclectic and eccentric collection of hardware gadgets that plug into the 3.5mm headphone jack of an iPhone, and couple with their apps.
Among the devices they make are a heart monitor, microphone, thermometer, stethoscope, pocket fan, oscilloscope, laser pointer, flashlight, breath controller, all sorts of remote control devices, and much more. German ingenuity and engineering leads the way again. The accessories cost from between $20 to $90 US, excluding shipping. The accompanying apps cost between $1 to $5.
[ad name="Post Bottom"]