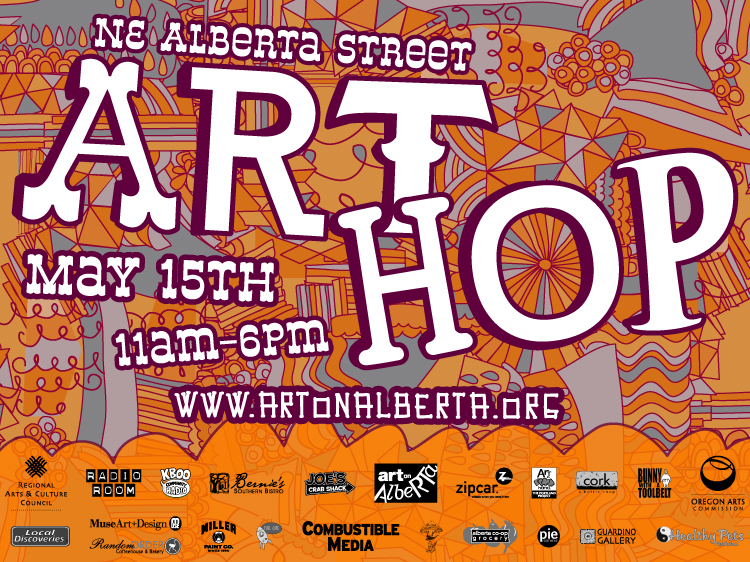 Art Builds Community!
Last week, I heard about the upcoming Alberta Street Art Hop in NE Portland. This was the 11th year of the annual event and although I once lived just a block from Alberta, I had never made it over to the fair. I knew this would be a good place to get some photos. I had no idea how large the art fair would be. To my surprise, I arrived to find a kaleidoscopic deluge of people stretched out along 20 long blocks; a perfect venue for iPhone Photography.
This was definitely a Portland event! More interesting than the exhibits and performers were the people attending. What an eclectic and curious looking group of people (me included). I've rarely seen such a captivating group of people in one place. Such color and style and flair. Portland was all here, splashy and vibrant. It was hard to look at the crafts and exhibits, I was so transfixed on the visitors. Although I like photographing curious objects and architecture, today my focus was on capturing the spirit of the people here.
There were many fascinating things to see. I watched talented artists painting several beautiful murals that will permanently be on display at various places in Portland. There were exhibits of local artists and tradespeople demonstrating their skills. The crafts for sale were unique. There was even a guy on stage showing how to tune up a bicycle – hey this is Portland. There were numerous things I hadn't seen before, not even at the fabled Portland Saturday Market.
Groups of musicians played an assortment of Jazz, Folk, and some very bizarre Skeleton Trance? (see photo). What a fun group of people. There was food and drinks and lots of kids and dogs. The weather was gorgeous, and there were lots of happy, smiling faces.
It was a good thing my friend was along with her iPhone 3GS. After shooting photos and video for several hours, my battery was gone. I borrowed her iPhone and got going again. I ended up with about 300 photographs. I've posted just a few here, but will be back soon with more photos and some video too.
For Art Hop 2010, we will create four new permanent murals for NE Alberta Street.  Muralist Rodolfo Serna will lead local youth groups from House of Umoja, p:ear, and Girls, Inc. to design and paint three murals which will ultimately be located on the buildings of Sabin CDC, Cork Wine Shop, and House of Umoja.  A fourth mural, designed by Esteban Camacho, will be open for anyone attending Art Hop to paint, and will be later placed on the facade of the Community Energy Project.  All murals will be painted at street level and mounted later to the buildings with the help of another NE Alberta Street nonprofit organization, Oregon Tradeswomen
Our theme for Art Hop 2010 is "ABC: Art Builds Community" and each mural will pertain to a different aspect of the NE Alberta neighborhood – from historical topics to current civic themes such as bike safety, youth, education – reflecting the multicultural and multifaceted makeup of this popular NE Portland neighborhood. These themes are in keeping with our mission statement: to promote the Alberta Art District's distinct cultural identity through art and educational activities.
A special exhibit of the original works used to create "Art in Hand- The Portland Project," a deck of unique playing cards designed by 54 local artists will be on display during Art Hop.
[ad name="Post Bottom"]