Yes, it's for real. A black cocktail dress and T-Shirt with built-in pouch to hold your iPad. iDress and iTee to be exact. They're the world's first iPad compatible clothing with a special huge 'kangaroo' pocket for your iPad.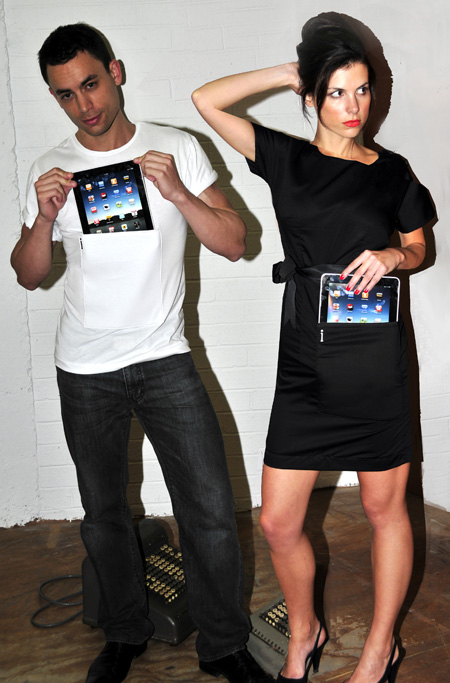 iClothing of (you guessed it) Australia has announced their iPad clothing line, the new iDress (black) and iTee (black or white).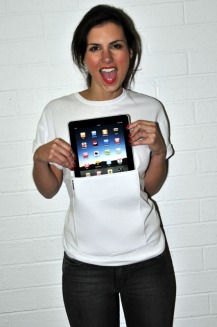 Call me square, but personally I think an iPad would do better cozied up inside some sort of case that hangs on your shoulder or goes on your back. The iPad weighs 1.5 pounds (Wi-Fi model). Man, that's a lot of digital hanging from your torso. Like 5 iPhones worth.
This guy is happy? He's going to have an iPaby?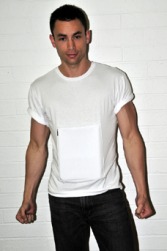 But then again I don't live 'down under' and my fashion sensibilities lie somewhere north of the Equator. And what do I know. For years I've repeatedly been told my fashion sense was totally misguided. Actually, I was told I didn't have one; it was completely missing! The day they were given out at school, I was home with the measles. However, over the years, I've adapted and now I actually consider it a blessing; just another thing I don't have to carry around.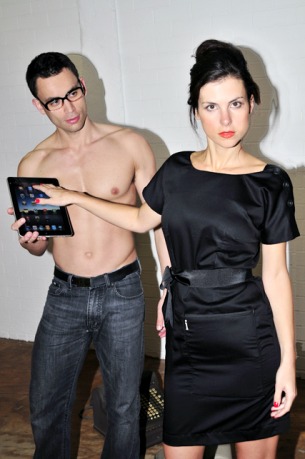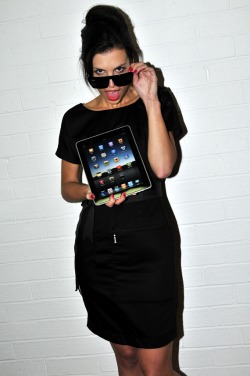 As a novelty clothing item, I've no doubt the iDress and iTee (I like the black, it somewhat disguises the marsupial look) will sell well. In fact, the web site already states that the iDress is 'ALL SOLD OUT'. Whoa!
Still, I'll live with my missing fashion sense (you only need one kidney you know), and when I go out and about, I'll continue carrying my iPad in my BigAssPocket.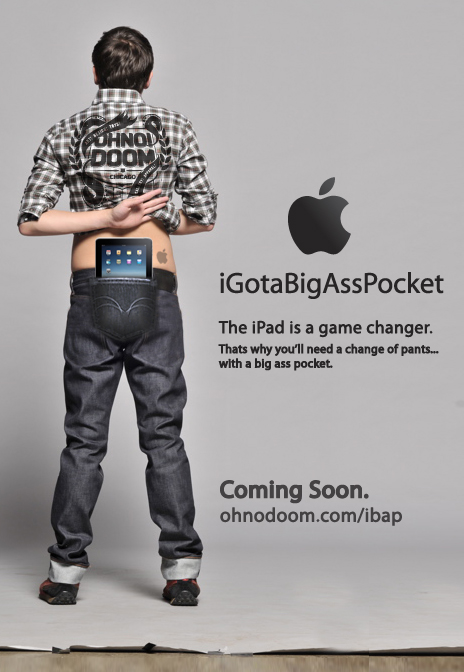 from iClothing:
iDress
The iDress is a black, above the knee, short sleeved dress with a built in protected pouch to carry and store your iPad without hindering your movement or style. Constructed out of durable cotton sateen, the iDress is the perfect work/day dress, comfortable and iPad compatible. From the office to the cocktail lounge, read your iPad comfortably on your way to the next party in town.
iTee
Unisex iTee available in all sizes in white and black. The protective almost invisible front pouch stores and carries your iPad with you on the move. Perfect for men and women with a digital lifestyle. Made from 100% cotton jersey, the simple tee has never been so technologically compatible. iTee is worn with the iPad in the pouch – comfortable and virtually undetectable.
[via Cult Of Mac | iClothing]
[ad name="Post Bottom"]