Grove Made of Portland, Oregon has begun shipping their fabulous iPhone 4 case made from Bamboo. Everyone has been anxiously awaiting the new iPhone case, and it is here.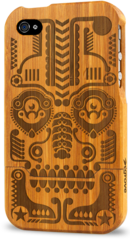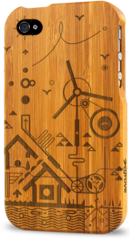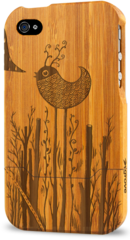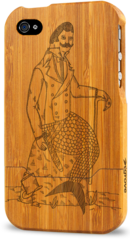 from Grove Made
We are proud to present our new case for the iPhone4. Made of 100% bamboo, the new Grove case is available plain, artist series, or custom. Natural or amber bamboo colors + stainless steel or black bezel combinations are available.
The case is as thin as possible while still being durable. We took design cues from the new generation of apple designs and applied them to our design. Some people have been lamenting the feel of the iPhone 4 as being too boxy and wishing that it were curved like the iPhone 3G. By using chamfers (similar to iPad) the case feels much more round and friendly in your hand than the phone itself. Ergonomics are important to us here at Grove.
The button cutouts have been designed with great thought balancing form and function. The holes are cutaway so that you can access buttons easily in a natural hand position. The chamfers meeting create an interesting diversion on the back from the plain geometry of the iPhone 4. The headphone jack has an extra cutaway for the noise cancellation mic. There is ample room for the microphone/speakers/charger at the bottom of the case.  If you look carefully, you can see a micro chamfer on the speaker holes. Nerdy detail!
Grove Made ships their iPhone 4 Bamboo cases.